COMPANY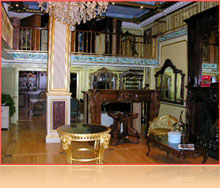 Edmon's Unique Furniture and Edmon's Stone Gallery was established in Los Angeles in 1978. However, the story of the master craftsman, Edmon Simonian, and his family tradition was started back in Armenia in 1890 by Edmon's greatgrandfather. The family legacy was moved to the United States by Edmon in 1976. As a child, Edmon Simonian started practicing hand carving with his father and grandfather using many heavy duty woodcarving tools. Later in his youth, Edmon spent time in Italy and studied the grand architecture of the Renaissance, which he later incorporated in his work. Edmon moved to the United States and set up a furniture making shop in the small Hollywood apartment he shared with his wife and daughter. He opened his own store on Melrose Avenue in 1978 with his saved money and often had to build furniture on the sidewalk because he did not have enough room inside. Today, that venture has grown into a block long storefront for two companion firms, Edmon's Unique Furniture and Edmon's Stone Gallery. Edmon's reputation was built by creating the most laborious reproduction furniture, carved panel rooms, fireplaces, mantels, overmantels, etc., which decorate some of the finest homes today.
Currently, Edmon's specializes in mantel production. The factory mantelpieces assume many forms, from simple wooden shelves to elaborately carved arrangements of stone. Edmon's excellence in mantel design has drawn customers form every corner of the world including designers, contractors, home owners and entertainers. Fox studios, WB, etc trust Edmon's craftsmanship when it comes to decorating their homes and businesses. Edmon's mantelpieces have also been the center of architectural design in motion pictures including Titanic, Father of the Bride, Rumor Has It, and many more.

Edmon's is the largest custom mantle manufacturer in the United States that features quality artists and the most prevalent mantle showrooms in the Unites States. Edmon's mantels represent the highest level of the mantel art. Each piece is carefully made one at a time by the dedicated master and his skilled craftsmen. All the artists have been trained by Edmon Simonian over 15 years and have grown with the company.
Edmon's customers can select from a wide variety of finished mantels or create their own custom mantel from an exciting array of carvings. Selections include many highly styled classic mantel components. Edmon's brings the experience of four generations of expert craftsmanship to each mantel design. You can visit
Edmon's online showrooms
,
download our catalog
or experience personal
customer design consultation
in the tradition of the mantel masters. Please call for a FREE consultation or visit our showrooms.