MANUFACTURING
Edmon's will help you create a distinctive look for your fireplace. The craftsmen take extreme care in creating dynamic hand carved designs. After a customer order has been processed, 4-6 weeks are required to make the mantel. Edmon's personnel will perform field measuring to ensure accuracy. All mantels are non combustible and do not require city firecode clearance.
Ready-made mantels are displayed in our showrooms and online catalog. These come in various sizes, adjustable to fit your particular fireplace, which makes it possible to have a new fireplace and mantel delivered and installed in less than a day's time.
Edmon's colors are hand mixed and cast into the pieces. Thus, colors may vary from samples distributed and shown on our website. Colors and textures will be discussed thoroughly with the customer to match the appropriate design.
Edmon's mantels receive careful finishing attention. The best stains and varnishes are employed that guarantee long wearing and durable surfaces.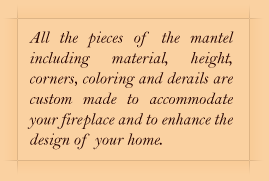 Material Choices
WOOD.
For a truly classic-looking mantel, or for some rustic styles, wood is the top choice. Edmon's wood is 100% custom made with highest quality lumber. Edmon's choice of wood is predominantly Alder, very similar to Birch, due to its beautiful staining quality. However, a customer is free to choose his/her own wood desired. Edmon's is dedicated in customer satisfaction and will use its expertise to work with individual needs. Our mantels range from plain, adorned with simple decorative paneling and molding, or elaborately carved: for specific examples visit the online wood selection or call.
STONE.
These are timeless, nearly indestructible materials for mantels. Edmon's cast stones are 90% custom made and weigh approximately 100-400 lbs. Styles range from clean lined looks to mantels that appear ornately carved: for specifics visit the online stone selection or call.
Contact Edmon's for one-on-one FREE consultation and to acquire details about special Services.
The Basic Mantel
Mantel:
the decorative frame around the fireplace Facing: the black plate that covers the firebox opening Hearth: the piece which rests on the floor and the mantel sits on
The Overmantel
An overmantel is the decorative arrangement of cabinetry and paneling that may sit on or above a mantel. The center of the overmantel can either accommodate a beveled mirror or a cast panel. Edmon's will supply the overmantel mirror if needed.
Please, consult our craftsmen and designers for proper integration of an overmantel.